Vincent Eugene Craddock (February 11, 1935–October 12, 1971), better known as Gene Vincent, was born in Norfolk, Virginia, on February 11, 1935. His early musical influences included country, rhythm and blues and gospel music. He showed his first real interest in music while his family lived in Munden Point, Virginia, near the North Carolina line, where they ran a country store. He received his first guitar as a gift from a friend at the age of 12. His father, Ezekiah Jackson Craddock, volunteered to serve in the U.S. Coast Guard and patrolled American coastal waters to protect Allied shipping against German U-boats during World War II. His mother, Mary Louise Craddock, maintained a general store at Munden Point. Craddock's parents moved the family and opened a new general store and sailor's tailoring shop in Norfolk. Having spent his youth in the Norfolk area, Craddock decided to pursue the life of a sailor. He dropped out of school at age 17 and enlisted in the U.S. Navy in 1952. Craddock's parents signed the required forms allowing him to join the Navy. He completed basic training and joined the fleet as a destroyerman on USS Chukawan, although he did spend a two week training period on USS Amphion before returning to the Chukawan. He proved to be a good sailor while deployed at sea, but gained a reputation as a trouble-maker while on liberty ashore. Craddock never saw combat, but completed a Korean War deployment. He sailed home from Korean waters aboard battleship USS Wisconsin, but was not part of the ship's company. Craddock planned a long career in the U.S. Navy and, in 1955, used his $612 dollar reenlistment bonus to buy a new Triumph motorbike. In July 1955, while in Norfolk, he was involved in a severe motorcycle accident that shattered his left leg. He refused to have it amputated. The leg was saved, but left him with a permanent limp and chronic pain for the rest of his life. He spent was in the Portsmouth Naval Hospital and was medically discharged from the Navy shortly thereafter. Craddock became involved in the local music scene in Norfolk. He changed his name to Gene Vincent and formed a rockabilly band called the Blue Caps (a term used in reference to enlisted sailors in the U.S. Navy). The band included Willie Williams on rhythm guitar, Jack Neal on upright bass, Dickie Harrell on drums, and the innovative and influential lead guitarist, Cliff Gallup. Departing from traditional naming conventions, he and his band are named "Gene Vincent and His Blue Caps", not "...the Blue Caps" as often stated. Gene Vincent and His Blue Caps soon gained a reputation playing in various country bands in his native Norfolk, Virginia. There, they won a talent contest organized by local radio DJ "Sheriff Tex" Davis, who became his manager. In 1956 he wrote "Be-Bop-A-Lula", No. 102 on Rolling Stone magazine's "500 Greatest Rock and Roll Songs of All Time" list. Local radio DJ "Sheriff Tex" Davis arranged for this to be demoed and this secured him a contract with Capitol Records. He signed a publishing contract with Bill Lowery of The Lowery Group of music publishers in Atlanta, Georgia. "Be-Bop-A-Lula" was not on Vincent's first album and was picked by Capitol producer Ken Nelson as the B side of his first single. Prior to the release of the single, Lowery pressed promotional copies of "Be-Bop-A-Lula" and sent them to radio stations throughout the country. By the time Capitol released the single, "Be-Bop-A-Lula" had already gained attention from the public and radio DJs. The song was picked up and played by other U.S. radio stations (obscuring the original "A-side" song), and became a hit and launched Vincent as a rock 'n' roll star. After "Be-Bop-A-Lula" became a hit (peaking at No. 7 and spending 20 weeks on the Billboard Pop Chart), Gene Vincent and His Blue Caps were unable to follow it up with the same level of commercial success, but released critically-acclaimed songs like "Race With The Devil" (No. 96 in Billboard) and "Bluejean Bop" (No. 49). That year, Vincent was reportedly convicted of public obscenity and fined $10,000 by the state of Virginia for his live performance of the erotic song, "Woman Love", although this is now believed to have been a rumor, possibly started by his manager. The group had another hit with 1957's "Lotta Lovin'" (highest position No. 13 and spending 19 weeks in the charts). Gene Vincent was awarded Gold Records for 2 million sales of Be-Bop-A-Lula and 1.5 million sales of Lotta Lovin'. The same year he toured the east coast of Australia with Little Richard and Eddie Cochran, drawing audiences totaling 72,000 to their Sydney Stadium concerts. Vincent also became one of the first rock stars to star in a film, The Girl Can't Help It with Jayne Mansfield. His 1956 top ten hit with his Blue Caps, "Be-Bop-A-Lula", is considered a significant early example of rockabilly. He is a member of the Rock and Roll and Rockabilly Halls of Fame.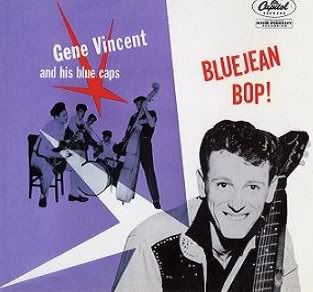 http://www.mediafire.com/?ozymhta3zwu
01- Bluejean Bop
02- Jezebel
03- Who Slapped John?
04- Ain't She Sweet
05- I Flipped
06- Waltz of the Wind
07- Jump Back, Honey, Jump Back
08- Wedding Bells (Are Breaking up That Old Gang of Mine)
09- Jumps, Giggles and Shouts
10- Lazy River
11- Bop Street
12- Peg O' My Heart
13- Race With the Devil
14- Be-Bop-A-Lula
15- Woman Love
16- Crazy Legs
17- Gonna Back up Baby
18- Well, I Knocked Him, Bim Bam