The Beatles (aka The White Album) was released in the UK on November 22, 1968 as Apple PMC 7067-8 (mono) and PCS 7067-8 (stereo). Its original working title was A Doll's House, which is the name of Henrik Ibsen's masterpiece play written in the 19th century. In addition, according to the book The Beatles' Album by Geoffrey Giuliano, an illustration was prepared for the cover of A Doll's House by the famed artist Patrick but the plain white cover was opted for instead. Recording sessions for the White Album started with the song "Revolution" on May 30, 1968, and concluded with take three of "Julia" on October 13, 1968. Mixing for the album was completed five days later on October 18, 1968. There are many differences between the stereo and mono versions of The White Album. This album marked the first on the then newly formed Apple label, which had made its first appearance as a 45 three months earlier on August 30, 1968 with the "Hey Jude/Revolution" single, both of which were recorded during the White Album sessions. Also recorded during those sessions were "What's the New Mary Jane?" and "Not Guilty". These two tracks were only available on bootlegs for many years, but were finally released legitimately for the first time 28 years after they were recorded on Anthology 3 in 1996. The Guiness Book of Records lists The Beatles as having sold "nearly two million" copies in its first week of release in the US. Over the years some critics have said that the White Album is too self-indulgent, some have said that it's too long and could have easily been a still better disc.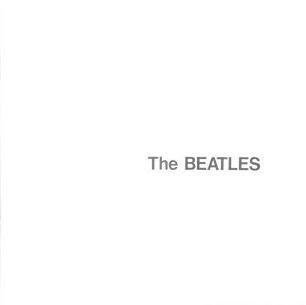 Disc 1:
01- Back In The U.S.S.R.
02- Dear Prudence
03- Glass Onion
04- Ob-La-Di, Ob-La-Da
05- Wild Honey Pie
06- The Continuing Story Of Bungalow Bill
07- While My Guitar Gently Weeps
08- Happiness Is A Warm Gun
09- Martha My Dear
10- I'm So Tired
11- Blackbird
12- Piggies
13- Rocky Raccoon
14- Don't Pass Me By
15- Why Don't We Do It In The Road?
16- I Will
17- Julia
Disc 2:
01- Birthday
02- Yer Blues
03- Mother Nature's Son
04- Everybody's Got Something To Hide Except Me And My Monkey
05- Sexy Sadie
06- Helter Skelter
07- Long, Long, Long
08- Revolution 1
09- Honey Pie
10- Savoy Truffle
11- Cry Baby Cry
12- Revolution 9
13- Good Night