In early April 1988, George Harrison was in Los Angeles, California and needed to record a B-side for a European 12-inch single. Jeff Lynne was also in Los Angeles producing some tracks for Roy Orbison as well as Tom Petty's solo album. While having dinner with Lynne and Orbison, Harrison related how he needed to record a new track and wanted to do it the next day. Both offered to help. Needing a studio on short notice, Harrison suggested they call Bob Dylan, who had a home studio. After dinner, George stopped by Tom Petty's house to pick up his guitar for the next day's session and invited him along too. Gathering at Dylan's Malibu home the following day, they wrote and recorded the song "Handle with Care" in five hours, with all five sharing the vocals. The track was considered too good to be used as a B-side, so Harrison hatched the idea to form a band and record another nine songs for an album. The group got together again for nine days in May, recording the basic tracks and vocals at Dave Stewart's home studio in Los Angeles. Overdubs and mixing were done back in England at Harrison's home studio F.P.S.H.O.T. (Friar Park Studio, Henley-on-Thames). Masquerading as
the Wilbury brothers
, the participants would be known as Nelson (Harrison), Otis (Lynne), Lucky (Dylan), Lefty (Orbison) and Charlie T. Jr. (Petty). Harrison was no stranger to the use of alternate identities, but this concept was taken a step further: their real names never appear anywhere on the album, liner notes, or even the songwriting credits. With Harrison having the greatest claim to the band, he signed them up to Warner Bros. Records (which Petty eventually signed to himself), his current label, and incorporated their own Wilbury Records label, in addition to producing the sessions with Lynne that spring. Released October 18, 1988,
Volume One
became the surprise hit of the year, selling two million copies within six months. Although the single "Handle With Care" did not scale the pop charts (it stalled at US #45), the album did, reaching #16 in the UK and an impressive #3 in the US. With over fifty weeks on the charts, the album was later certified triple-platinum. While Harrison and Petty had had recent successes, Dylan, Orbison and Lynne had not seen an album climb that high in several years. At the time, no Dylan album had ever achieved two million in sales. As one critic put it, it was
"one of the great commercial coups of the decade."
Most critics said the group's modest ambitions were fresh and relaxing. During 1989 and 1990 the album won many accolades, including a Grammy for Best Rock Performance by a Duo or Group, but Orbison died suddenly of a heart attack on 6 December 1988. After George Harrison's distribution deal with Warner Bros. expired in 1995, ownership of the Dark Horse Records catalog as well as the two Traveling Wilburys albums reverted to Harrison and the albums went out of print. On June 12, 2007,
Volume One
and
Vol. 3
were re-issued by Rhino Records as
The Traveling Wilburys Collection
, packaged together with bonus tracks and a DVD. The box set debuted at #1 on the UK Albums Chart and at #9 on The Billboard 200.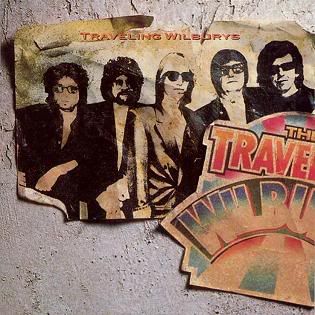 http://www.mediafire.com/file/mjxuxekn52i/Traveling
Wilburys - Vol. 1.rar
01- Handle with Care
02- Dirty World
03- Rattled
04- Last Night
05- Not Alone Any More
06- Congratulations
07- Heading for the Light
08- Margarita
09- Tweeter and the Monkey Man
01- End of the Line