The Everly Brothers
(Don Everly, born Isaac Donald Everly February 1, 1937, Brownie, Muhlenberg County, Kentucky - Phil Everly, born Phillip Everly, January 19, 1939, Chicago, Illinois) are brothers and top-selling country-influenced rock and roll performers, known for steel-string guitar playing and close harmony singing. The Everlys are the most successful U.S. rock and roll duo on the Hot 100. Their greatest period came between 1957 and 1964. The brothers are both guitarists and use a simple vocal harmony mostly based on parallel thirds. With this, each line can often stand on its own as a melody line. This is in contrast to classic harmony lines which, while working well alongside the melody, sound strange by themselves. One example of their close-harmony is "Devoted to You". The duo's harmony singing had a strong influence on rock and roll groups of the 1960s. The Beatles, The Beach Boys, and Simon and Garfunkel developed their early singing style by performing Everly covers. The Beatles based the vocal arrangement of "Please Please Me" upon "Cathy's Clown." Their father Ike Everly was a musician. Ike Everly had a show on KMA and KFNF in Shenandoah, Iowa, in the 1940s, with his wife Margaret and two young sons. Singing on the show gave the brothers their first exposure to the music industry. The family sang together live and traveled in the area singing as the Everly Family. The Everly Brothers grew up from ages 5 and 7 through early high school in Shenandoah. The Everly Brothers recorded their first single, "Keep A' Lovin' Me", released in 1956, under Chet Atkins, but it flopped. However, their next, "Bye Bye Love", after being rejected by 30 other acts (including Elvis Presley), reached #2 on the pop charts behind Presley's "Let Me Be Your Teddy Bear", hitting #1 on the Country and the R&B charts. The song, written by the husband and wife Felice and Boudleaux Bryant, became the Everly Brothers' first million-seller. Working with the Bryants, the duo had hits in the United States and the United Kingdom, the biggest "Wake Up Little Susie", "All I Have to Do Is Dream", and "Bird Dog". Others in this period include "Problems" (Pop #2) and "('Til) I Kissed You" (Pop #4). The Everly Brothers also toured extensively with Buddy Holly during 1957 and 1958. According to Holly biographer Philip Norman, they were responsible for the change in style for Buddy and the Crickets from Levis and t-shirts to the Everly's sharp Ivy League suits. Don also remembers Buddy as a generous songwriter who wrote 'Wishing' for them. "We were all from the South, we'd started in country music" said Phil Everly. Phil Everly was one of Buddy Holly's pallbearers at his funeral in February 1959. Don Everly did not attend. He later said, "I couldn't go to the funeral. I couldn't go anywhere. I just took to my bed." In 1960, they continued to have hits. Their first, 1960's "Cathy's Clown" (written by Don and Phil) sold eight million copies, the duo's biggest-selling record. It was number WB1, first release in the United Kingdom by Warner Brothers Records. Other successful Warner Brothers singles followed, such as "So Sad (To Watch Good Love Go Bad)" (1960) (Pop #7), "Walk Right Back" (1961) (Pop #7), "Crying In The Rain" (1962) (Pop #6), and "That's Old Fashioned" (1962) (Pop #9, their last Top 10 hit). Cadence Records continued to release Everly Brothers singles from the vaults: these included the top ten hit "When Will I Be Loved" (written by Phil) (Pop #8) and the top 40 hit "Like Strangers", as well as lower-charting singles. Their last U.S. Top Ten hit was 1962's "That's Old Fashioned" and succeeding years saw the Everly Brothers selling many fewer records in the United States. Their star had begun to wane two years before the British Invasion in 1964 — although their appeal remained strong in Canada, the United Kingdom, Australia and elsewhere. Of the 27 singles the Everly Brothers released from 1963 through 1970, only three made the Hot 100, and none peaked higher than #31. However, The Everlys had more success in Britain and Canada, reaching the top 40 in the United Kingdom with singles through 1965, and the top 10 in Canada as late as 1967. The album title
In Our Image
referred to their influence on a new era of singers like the Beatles. The album
Two Yanks in England
, was recorded there with backup by The Hollies, is a reflection of their success there. Their 1968 album
Roots
is touted by some critics as a superior example of their music, however by the end of the 1960s The Everly Brothers were no longer hitmakers in either North America or the United Kingdom, and in 1970 their contract with Warner Bros. lapsed after ten years. In 1970, they were the summer replacement hosts for Johnny Cash's television show. In 1970, Don Everly released his first solo album, but it was not a success. The Everly Brothers resumed performing in 1971, and signed a contract with RCA Records. The duo split on July 14, 1973, when Don Everly came onstage too drunk to perform at Knotts Berry Farm. This was especially embarrassing since it was billed as their last performance, and so family members, friends, and fans from within the music industry were in heavy attendance (including former band member Warren Zevon, whose biography, cited below, contains first-hand accounts of this incident). After several futile attempts, Phil Everly became enraged, smashed his guitar, and stormed offstage and out of the building—dragging his wife, in tow—leaving Don to finish the concert by himself. Don told the crowd, "The Everly Brothers died ten years ago." After the split, the brothers would not speak to each other for the next 10 years, only getting together once in 1975 for their father's funeral. The brothers reformed in 1983 with an album produced by Dave Edmunds. "On the Wings of a Nightingale", written by Paul McCartney, was a minor success and returned them to the U.S. and UK charts. Their reunion concert at the Royal Albert Hall in London on September 22, 1983, which was instigated by English guitarist Albert Lee (who was also the musical director), resulted in a well-received LP and video. They then earned a final charting country-music hit with "Born Yesterday" in 1986 from the album of the same name. During this time Don's son, Edan Everly, would often join the Everly brothers on stage to sing and play guitar. Even though the brothers have not produced studio albums since 1989, they still tour and perform.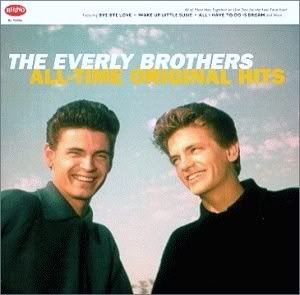 http://www.mediafire.com/file/ng3feijcmzm/Everly
Brothers - All Time Original Hits.rar
01- Bye Bye Love
02- Devoted to You
03- Wake Up Little Susie
04- All I Have to Do is Dream
05- Problems
06- Let It Be Me
07- Bird Dog
08- Take a Message to Mary
09- Claudette
10- Maybe Tomorrow
11- ['Til] I Kissed You
12- Oh, What a Feeling
13- Poor Jenny
14- Since You Broke my Heart
15- Rocking Alone [In an Old Rocking Chair]
16- This Little Girl of Mine
17- Love of My Life
18- Should We Tell Him
19- Cathy's Clown
20- Hey Doll Baby
21- I'm Here to Get my Baby Out of Jail
22- When Will I Be Loved?
23- I Wonder if I Care as Much
24- Lucille
25- So Sad [to Watch Good Love Go Bad]
26- Walk Right Back
27- Like Strangers
28- Temptation
29- Don't Blame Me
30- So How Come [No One Loves Me]
31- Crying in the Rain