Singer and songwriter Joaquín Sabina was born in Úbeda, Spain, in February 12, 1949. At the age of 14, Sabina started writing poems, getting connected with music as a member of a teenager's rockabilly band called The Merry Youngs. Sabina's poetry and music skills were extended to acting while being part of Juan Panadero's theatrical company. In 1976, his book
Memorias del Exilio
was published and its lyrics were Sabina's inspiration to record his first album in 1978.
El Inventario
was followed by
Malas Compañias
, the first one for CBS. While the artist's popularity as a songwriter was growing, Sabina's lyrics started being requested by well-known Hispanic singers. In 1985, Sabina left CBS, signing up to the Ariola label.
Joaquín Sabina y Viceversa
was recorded live during two successful shows performed at Salamanca Theater on February 14 and 15, 1986. The following studio record came in 1987.
Hotel, Dulce Hotel
sold over 400,000 copies. In 1992, Sabina went on tour, performing almost 200 shows around the world. In 1997, the artist was recognized as the Best Spanish Rock and Pop Songwriter by the Spanish Songwriters Association (SGAE). This LP, released in 1999, this is probably the best of his works. Astonishingly good despite his very very broken voice. However at this time in age, one does not listen to Sabina because of his superb singing abilities but because of his wit, irony, and cynical stance. Bucketloads of those in here. Highly recommended.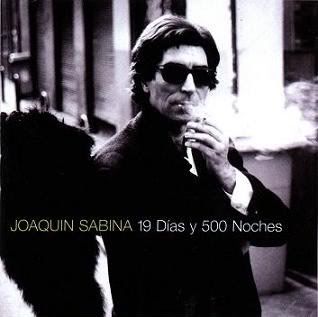 http://www.mediafire.com/?n4oevznniiw
01. Ahora Que...
02. 19 Dias Y 500 Noches
03. Barbi Superestar
04. Una Cancion Para la Magdalena
05. Dieguitos y Mafaldas
06. A Mis Cuarenta y Diez
07. El Caso De La Rubia Platino
08. Donde Habita El Olvido
09. Cerrado Por Derribo
10- La Biblia y el Calefón
*

11. Pero Que Hermosas Eran
12. De Purisima Y Oro
13. Como Te Digo Una "Co" Te Digo La "O"
14. Nos Sobran Los Motivos
*

*
Only included on the Argentine released version.