Roberto Sánchez (August 19, 1945 – January 4, 2010), better known as
Sandro
, AKA
Sandro de América
("Sandro of America" in Spanish), or
El Gitano
(The Gypsy), was an Argentine singer and actor. He learned to play the guitar as a child, and his paternal grandfather was Russian Romani. Romani people are known in Argentina as gitanos (gypsies). Considered as the precursor of rock music in Spanish, initially he imitated Elvis Presley, but he ended creating a totally personal style that marked his whole career. He started as the singer of the group
Sandro & los de Fuego
, which gained popularity on the TV show
Sábados Circulares
during the early 60s. Later, during the late 60s - early 70s, he became immensely popular in Latin America with songs like
Trigal, Tengo, ¿A Esto Le Llamas Amor?, Eres El Demonio Disfrazado, Porque Yo Te Amo, Una Muchacha y Una Guitarra
and
Rosa, Rosa
. Sandro also appeared in various films, among others:
Quiero Llenarme de Ti
("I Want to Fill Myself with You") and a telenovela (soap opera), called
Fue sin Querer
("It Wasn't On Purpose"). He was the first Latino pop singer to fill Madison Square Garden doing so five times during the 1970s. Sandro was also the first singer to do a television concert via satellite. The concert was broadcast from Madison Square Garden on April 1970. This concert marked the debut of Latino music for a world audience. In the 1990s several Argentine and other Latin American artists made a CD in his honor called
Padre del Rock en
Castellano
("Father of Rock in Spanish "). After several years without any important notice on his music, Sandro reappeared in 1993 at the Gran Rex Theater in Buenos Aires doing 20 consecutive sold-out concerts. That was his last series of public appearances before announcing that he had got emphysema because of the cigarettes that he used to smoke by many years. He died on January 4, 2010 of complications from heart and lung transplant surgery. He was 64 y.o. Here's a compilation of the best rock & roll numbers featured on his first 6 LPs. Hope you like it.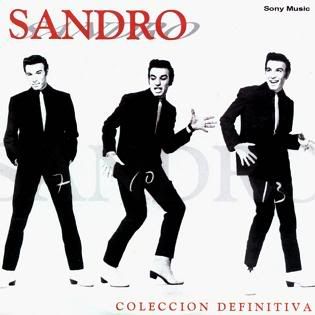 http://www.mediafire.com/file/cntyfidayyj/ColDef.rar
01- Whole Lotta Shakin' Goin On
02- Devil In Disguise
03- Boys
04- Sugar Schack
05- Mother Goose Twist
06- Kiss Me Quick
07- On my Mind
08- Peggy, Peggy
09- Hippy Hippy Shake
10- A World Without Love
11- Tchin, Tchin
12- My Bonnie
13- Glad All Over
14- Little Child
15- From a Window
16- It's Gonna Be All Right
17- Feel So Fine
18- Rock & Roll Music
19- I'll Follow the Sun
20- The House of the Rising Sun
21- Forever
22- Love Potion Number Nine
23- I'm Talking 'Bout You
24- Such a Night
25- Tutti Frutti
26- It Feels so Right
27- What I'd Say
28- A Boy Loomy
29- Sigue Llamando Nena
30- Well Allright, Okay, You Win
31- Down The Line
32- I'm Ready
33- Reach Out I'll Be There
34- A Little Bit Now
35- Atmósfera Pesada