Pappo is the pseudonym of Argentine blues and metal/rock musician Norberto Napolitano (Buenos Aires, 10 March 1950 - Luján, Buenos Aires province, 24 February 2005). A native of the middle-class La Paternal neighborhood in Buenos Aires, Pappo started playing the guitar at the age of ten, and became active in Argentine rock since its beginnings. Here's the first part of a compilation featuring his best work.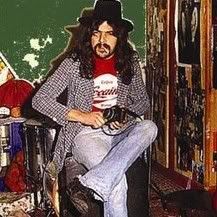 http://www.mediafire.com/file/ujjz4zxdjtj/1-21
Pappo 1970-2005.rar
01- Mujer de Carbón (c/Los Gatos)
02- Rock de la Mujer Perdida (c/Los Gatos)
03- Nunca lo Sabrán (c/Almendra)
04- Algo Ha Cambiado
05- El Viejo
06- El Hombre Suburbano
07- ¿Adónde Está la Libertad?
08- El Tren de las 16
09- Llegará la Paz
10- Insoluble
11- Tema I
12- Desconfío
13- Solitario Juan
14- El Blues de Santa Fe
15- Stratocaster Boogie
16- Sucio y Desprolijo
17- El Sur de la Ciudad
18- Sandwiches de Miga
19- Trabajando en el Ferrocarril
20- Caras en el Parque
21- Siempre es lo Mismo, Nena