Emerson, Lake & Palmer (ELP) were an English progressive rock supergroup. In the 1970s, the band was extremely popular, selling over 35 million albums and headlining huge concerts. The band consisted of Keith Emerson (keyboards), Greg Lake (guitar, bass guitar, vocals) and Carl Palmer (drums, percussion). On two occasions in 1969, The Nice (with Keith Emerson on keyboards) and King Crimson (with Greg Lake on bass and vocals) shared the same venue, first on August 10, 1969 at the 9th Jazz and Blues Pop Festival in Plumpton, England and on October 17, 1969 at Fairfield Halls in Croydon, England. After playing at a few of the same concerts, Emerson and Lake tried working together and found their styles to be not only compatible but also complementary. They wanted to be a keyboard/bass/drum band, and so searched out a drummer. Before settling on Carl Palmer, who at that time was a member of Atomic Rooster, they approached Mitch Mitchell of The Jimi Hendrix Experience. Mitchell was uninterested but passed the idea to Jimi Hendrix. Hendrix, tired of his band and wanting to try something different, expressed an interest in playing with the group. Since Emerson and Lake had settled on Palmer by then, this led the British press to speculate about a supergroup called HELP, or "Hendrix, Emerson, Lake & Palmer". Because of scheduling conflicts, such plans were not immediately realised, but the initial three planned a jam session with Hendrix after their second concert at the Isle of Wight Festival (their debut being in The Guildhall, Plymouth on Sunday 23 August 1970 at 7.30pm - with the band "Earth" as support), with the possibility of him joining. Hendrix died shortly thereafter, and the three pressed on as Emerson, Lake and Palmer. Their first four years were a creatively fertile period. Lake produced five of their first six albums (Brain Salad Surgery being co-produced with Pete Sinfield, who had recently abandoned King Crimson), starting with
Emerson, Lake and Palmer
(1970), which contained the hit "Lucky Man". Their best known early performance had been a relatively modest show at the August 1970 Isle of Wight Festival, one of the last of the great Woodstock-era festivals.
Tarkus
(1971) was their first successful concept album, described as a story about "reverse evolution". The March 1971 live recording (Newcastle, UK) of the band's next album
Pictures at an Exhibition
, an interpretation of Modest Mussorgsky's work of the same name, was issued as a low-priced record, the success of which contributed to the band's overall popularity. The 1972 album Trilogy contained ELP's best-selling single, the understated "From the Beginning". In 1973, the band had garnered enough recognition to form their own record label, Manticore Records, and purchased an abandoned cinema as their own rehearsal hall. In late 1973,
Brain Salad Surgery
, with an eye-catching sleeve designed by H. R. Giger, was released and became the band's best-known studio album. The lyrics were co-written by Peter Sinfield, who was the lyricist for King Crimson's first four albums. The subsequent world tours were documented with a massive three-LP live recording,
Welcome Back my Friends to the Show that Never Ends
. The ELP sound was dominated by the Hammond organ and Moog synthesizer of the flamboyant Emerson. The band's compositions were heavily influenced by classical music in addition to jazz and – at least in their early years – hard rock. Many of their pieces are arrangements of, or contain quotations from, classical music, and they can be said to fit into the sub-genre of symphonic rock. Onstage, the band exhibited an unorthodox mix of virtuoso musicianship and over-the-top theatrical bombast. ELP then took a three-year break to reinvent its music but lost contact with the changing musical scene. The band toured the US and Canada in 1977 and 1978 on a killing schedule of night after night performances – some with a full orchestra, which was a heavy burden on the tour revenues. These late-1970s tours found ELP working harder than ever to stay in touch with their audience. But as disco, punk rock, corporate rock and New Wave styles began to alter the musical landscape, ELP could no longer generate the excitement of being forerunners in musical innovation. Eventually, they drifted apart due to personality conflicts and irreconcilable differences concerning musical direction.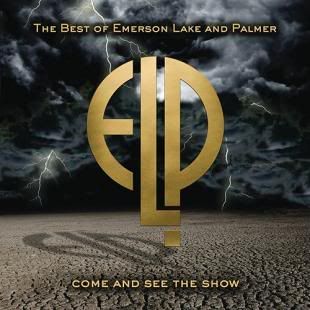 http://www.megaupload.com/?d=0869ECV2
01- Karn Evil 9: First Impression-Part 2
02- Lucky Man
03- From the Beginning
04- Knife-Edge
05- Hoedowm
06- Jerusalem
07- C'est La Vie
08- Still...You Turn Me On
09- Tank
10- Fanfare For the Common Man
11- Tocatta
12- Peter Gunn
13- Nutrocker
14- I Believe In Father Christmas