From Then to You
(UK), aka
The Beatles' Christmas Album
(U.S.) was a 1970 compilation album of the Christmas records issued via the Beatles' Fan Club—and made available solely to members of their official fan clubs in the UK and the U.S. This limited edition LP was issued as
From Then to You
in the UK by Apple Records (LYN 2154) and as
The Beatles' Christmas Album
in the U.S. (SBC 100). Each year from 1963 to 1969, the Beatles had recorded a short Christmas message for their fans, composed of carols, skits, jokes, and thanks to the loyal "Beatle People". Each recording was pressed onto a 7" flexi disc and mailed free to the British members of the Fan Club. In 1970, With the Beatles now split up, the fan club issued a final offering to the fan-club, which was one L.P. collecting together all the previous years fan club flexi discs onto one L.P. Most interestingly, when this LP was created the original master tapes had been "mis-laid" and so this compilation was created using actual flexi discs belonging to fan club secretary Freda Kelly. Master tapes appeared later even including some out-takes. This rare record was sent to fan club memebers in England on 18th December 1970 (at least this is its release date according to Apple), and was sent to US fan club members in the spring of 1971. Though it served to remind fan-club members that the Beatles were no more, it had the advantage of much better sound quality than the old previous flexi-discs and cardboard mailers; also, it was the first time the 1963 and 1964 messages were available in America. Not long after the album was issued, numerous counterfeits and bootlegs appeared on the market, which continue to circulate to this day. The current price for a copy of the UK version is more or less £ 300.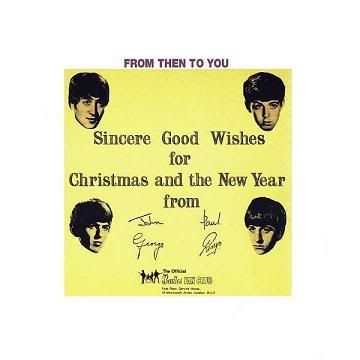 01- 1963: The Beatles Christmas Record
02- 1964: Another Beatles Christmas Record
03- 1965: The Beatles' Third Christmas Record
04- 1966: The Beatles' Fourth Christmas Record, Pantomime: Everywhere It's Christmas
05- 1967: Christmas Time is Here Again!
06- 1968: The Beatles' 1968 Christmas Record
07- 1969: The Beatles' Seventh Christmas Record
Bonus Tracks:
08- 'Xmas Message, AKA "Hello Dolly!" (take 1) - 26/10/64
09- Speech (take 1) - 26/10/64
10- Speech (take 2) - 26/10/64
11- 'Xmas Message (takes 3 & 4) and Marching - 26/10/64
12- Edited take 5 - alternate edit - 26/10/64
13- Christmas record session 19/10/65
14- Outtakes 1 - 27 + 31/10/65
15- Outtakes 2 - 27 + 31/10/65
16- 'Xmas Messages for Radio London and Radio Caroline - 1966
17- Sessions / Anthology mix (oopsed) - 06/12/66
18- 'Xmas Time is Here Again (complete version) - 28/11/67
19- Jock & Yono (John & Yoko) - November 1968
20- Onceuponapooltable (John & Yoko) - November 1968
21- Outtakes 1 - 1968
22- John and Yoko's 'Xmas Message - 1969
23- Happy 'Xmas (War is Over) - John & Yoko Home Demo - 1971
24- Happy 'Xmas (War is Over) - Early mix