The North American version, the band's eighth Capitol Records album and tenth overall, includes the songs in the film plus selections from the orchestral score composed by Ken Thorne and performed by the George Martin Orchestra, which contains one of the first uses of the Indian sitar on a pop album. "Ticket to Ride" is the only song on the American release in duophonic stereo (also known as "fake stereo") reprocessed from the mono mix. This American release was a true soundtrack album, mixing the first seven songs with orchestral material from the film. Of the other seven songs that were on the British release, two were released on the US version of the next Beatles album,
Rubber Soul
, two were back-to-back on the next US single and then appeared on
Yesterday and Today
, and three had already been on
Beatles VI
. This album is available on CD as part of
The Capitol Albums, Volume 2
box set. This set also includes the mono version of the American release, which is purely a stereo-to-mono fold-down mix, including the "fake stereo" duophonic "Ticket To Ride" folded down to mono again, despite Capitol already having the mono mixes for the single releases of both that song and "Help!". The American version of
Help!
reached the number one spot on the Billboard album charts for nine weeks starting on 11 September 1965.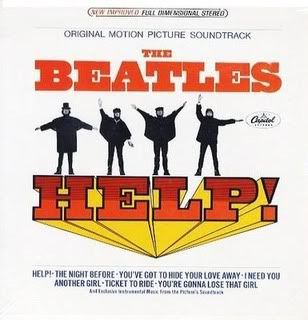 Mono
:
https://mega.co.nz/#!WQdG2boT!EZ76eDEjZMcvWUovLuGHihTH4JQAYLVLbsiohUdeb9o
Stereo:
https://mega.co.nz/#!LJFTWRwC!PbrGpQiVnes0ykFYYEtJ6mocF89Ky3D1WPGzR3H5HVs
01- James Bond Theme (Instrumental) + Help!
02- The Night Before
03- From Me To You Fantasy (Instrumental)
04- You've Got To Hide Your Love Away
05- I Need You
06- In The Tyrol (Instrumental)
07- Another Girl
08- Another Hard Day's Night (Instrumental)
09- Ticket To Ride
10- The Bitter End/You Can't Do That (Instumental)
11-You're Gonna Lose That Girl
12- The Chase (Instrumental)