Yesterday and Today
(rendered as
"Yesterday… And Today"
on the record label and in most published discographies) is the tenth Capitol release by the The Beatles and the twelfth overall U.S. release. It was issued only in the United States and Canada. The album is remembered primarily for the controversy surrounding its original cover image, the "butcher cover" featuring the band dressed in white smocks and covered with decapitated baby dolls and pieces of meat. Probably this is the reason why it'll never be released officially on CD format. This album saw the release of all of the tracks from the previous two British releases that were not included on their American counterparts:
Help!
("Act Naturally" and "Yesterday") and
Rubber Soul
("Drive My Car", "Nowhere Man", "If I Needed Someone", and "What Goes On"). The recent single "Day Tripper" / "We Can Work It Out" was also included, as were three tracks from the upcoming LP,
Revolver
: "I'm Only Sleeping", "Doctor Robert", and "And Your Bird Can Sing", issued here in preliminary mixes. This cutting up of their albums irritated the Beatles, who felt they had "put a lot of work into the sequencing" of the British versions. In fact,
"Revolver"
and this album were to be the last examples of this practice. Released in June 1966, a short time before what would be their last tour, this album's controversial cover marked the first time that the Beatles' judgment was severely criticized by the media and the public. Nevertheless, the album reached #1 on the U.S. Billboard charts by July 30, 1966 and was certified gold soon after. Apart from the so-called butcher cover, this album is of interest to collectors for the appearance of unique mixes tracks unavailable elsewhere. Because of Capitol Records' haste to release new product, mono and stereo pre-mixes of "Dr. Robert", "And Your Bird Can Sing", and "I'm Only Sleeping" were made for the US and sent by Martin specifically for this album; also the stereo mixes of "Day Tripper" (mixed October 26,1965) and "We Can Work It Out" featured here (both mixed on November 10, 1965 and then scrapped on August 09, 1966 from Abbey Road vaults) differ from the UK official stereo mixes which were done sometime later that year (November 10, 1966) specifically for the British compilation
Oldies… But Goldies
, so these included here (I mean
officially
only here) are the original 1965 mixes which were later discarded for all later releases.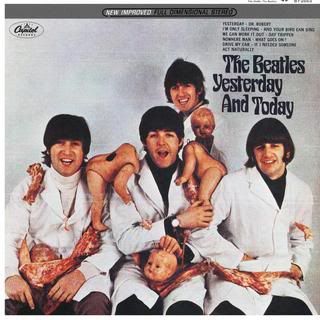 01- Drive My Car
02- I'm Only Sleeping
03- Nowhere Man
04- Dr. Robert
05- Yesterday
06- Act Naturally
07-And Your Bird Can Sing
08- If I Needed Someone
09- We Can Work It Out
10- What Goes On?
11- Day Tripper