Beatles '65
is The Beatles' fifth Capitol release, but seventh American album. It was released in mono and stereo versions.
Beatles '65
includes eight of the fourteen songs from
Beatles for Sale
(omitting "Eight Days a Week", "Words of Love", "Every Little Thing", "I Don't Want to Spoil the Party", "What You're Doing", and the "Kansas City/Hey, Hey, Hey, Hey" medley, all of which showed up later in
Beatles VI
). It picked up "I'll Be Back" from the UK
A Hard Day's Night
and also includes the single "I Feel Fine"/"She's a Woman". These latter two songs were remixed into "duophonic" [fake] stereo and drenched in reverb by Capitol Records' executive Dave Dexter, Jr. to cover up the use of the mono mixes sent from England. The mono versions of both "I Feel Fine" and "She's A Woman" were also remixed with added echo and reverb for the single and mono album release. The stereo version of "Mr. Moonlight" has a longer fadeout than the UK versions. In the US the album was a blockbuster hit, and jumped from number 98 straight to number 1, making the biggest jump to the top position in the history of the Billboard Album Charts up to that time. It remained at number 1 for nine straight weeks, starting on 9 January 1965. In what may be testament to the overwhelming market appeal of the Beatles, several albums were released and promoted in America during 1965 sporting a similar title. These included
Sinatra '65
by Frank Sinatra and
Ellington '65
by Duke Ellington on Reprise Records,
Trio '65
by jazz pianist Bill Evans on Verve Records, and
Brasil '65
by Sérgio Mendes on the Beatles' own Capitol label. This album was also issued in Germany on the Odeon label. On 16 November 2004, this album was released on CD for the first time as part of
The Capitol Albums, Volume 1
box set.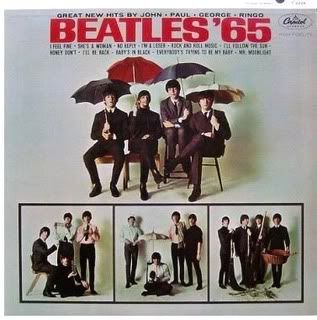 01- No Reply
02- I'm a Loser
03- Baby's in Black
04- Rock and Roll Music
05- I'll Follow the Sun
06- Mr. Moonlight
07- Honey Don't
08- I'll Be Back
09- She's a Woman
10- I Feel Fine
11- Everybody's Trying to Be my Baby