While showcasing the development of the band's songwriting talents, the album sticks to the basic rock and roll instrumentation and song format. It is notable as the first Beatles album to feature entirely original compositions (and the only one with a song catalogue credited entirely to Lennon-McCartney). The album contains some of their most famous songs, including the title track (with its distinct, instantly recognizable opening chord) and "Can't Buy Me Love", both being transatlantic number one singles for the band. The album and film are said to portray the classic image of the Beatles, as it was released at the height of Beatlemania. George Harrison's resonant 12-string electric guitar leads were hugely influential; the movie helped persuade the Byrds, then folksingers, to plunge all out into rock & roll, and the Beatles (along with Bob Dylan) would be hugely influential on the folk-rock explosion of 1965. The Beatles' success, too, had begun to open the U.S. market for fellow Brits like the Rolling Stones, the Animals, and the Kinks, and inspired young American groups to mount a challenge of their own with self-penned material that owed a great debt to Lennon-McCartney. Side one of the LP contains the songs from the movie soundtrack. Side two contains songs written for, but not included in, the film. In 2000,
Q magazine
placed
A Hard Day's Night
at number 5 in its list of the 100 Greatest British Albums Ever. In 2003, the album was ranked number 388 on
Rolling Stone
magazine's list of the 500 greatest albums of all time.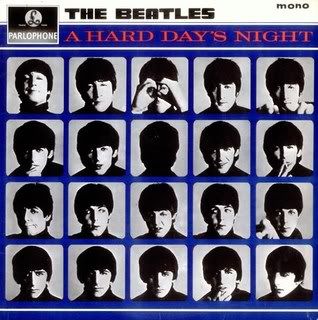 01- A Hard Day's Night
02- I Should Have Known Better
03- If I Fell
04- I'm Happy Just to Dance With You
05- And I Love Her
06- Tell Me Why
07- Can't Buy Me Love
08- Anytime at All
09- I'll Cry Instead
10- Things We Said Today
11- When I Get Home
12- You Can't Do That
13- I'll Be Back