Aníbal Troilo (
July 11
,
1914
-
May 18
,
1975
) was an
Argentine
tango
musician. Anibal Troilo is widely thought of by tango listeners as the defining
bandoneon
player of his generation. His
orquesta tipica
was among the most preferred by social dancers during the golden age of tango (1940-1955), but he shifted to a concert sound by the late 1950s. Troilo's orchestra is best known for its
instrumentals
but it also recorded with many
vocalists
, such as Francisco Fiorentino, Alberto Marino, Floreal Ruiz, Roberto Goyeneche, Raul Beron, and Edmundo Rivero.
As a composer, he wrote songs like "Te Aconsejo", "En Esta Tarde Gris" or "La Última Curda". The rhythmic instrumentals and the recordings with vocalist

Francisco Fiorentino

from 1940-41 are the favorite recordings for social dancing in contemporary tango salons (milongas), and featured here...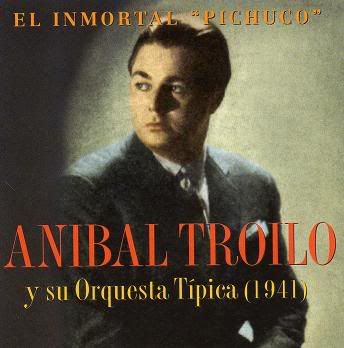 http://rapidshare.com/files/214705876/El_Inmortal__Pichuco_.rar
01- Milongueando en el '40
02- Toda Mi Vida
03- Cachirulo
04- Te Aconsejo Que Me Olvides
05- Tabernero
06- Pájaro Ciego
07- El Bulín de la Calle Ayacucho
08- Yo Soy el Tango
09- Guapeando
10- Una Carta
11- En Esta Tarde Gris
12- Cordón de Oro
13- Total... ¿Pa' Qué Sirvo?
14- El Cuarteador
15- Maragata
16- Cautivo
17- Tinta Roja
18- No le Digas Que la Quiero