"Time Out" is a 1959
album
by
The Dave Brubeck Quartet
, based upon the use of
time signatures
that were unusual for
jazz
(mainly
waltz
or double-waltz time, but also 9/8, and most famously 5/4).
Although the album was intended as an experiment (Columbia president Goddard Lieberson was willing to chance releasing it) and received negative reviews by critics upon its release, it became one of the best-known and biggest-selling jazz albums, reaching number two in the
U.S.
Billboard
"Pop Albums" chart, and produced one
single
—
Paul Desmond
's "
Take Five
" — that reached number five in the Billboard "Adult Contemporary" chart.
In 2005 it was one of 50 recordings chosen that year by the
Library of Congress
to be added to the
National Recording Registry
.
Although the theme (and the title) of "Time Out" is non-common-time signatures, things are not quite so simple. "
Blue Rondo à la Turk
" starts in 9/8 (the rhythm of the Turkish
zeybek
, equivalent of the Greek
zeibekiko
), but with the unorthodox subdivision pattern of 2+2+2+3 (the normal pattern for 9/8 is 3+3+3), and the saxophone and piano solos are in 4/4. "Strange Meadow Lark" begins with a piano solo that exhibits no clear time signature but then settles into a fairly ordinary 4/4 swing once rest of the group joins. "Take Five" ("supposed to be a
Joe Morello
drum solo", according to Desmond) is in 5/4 throughout. "Three to Get Ready" begins in waltz-time, after which it begins to alternate between two measures of 3/4 (the waltz-time), and two of 4/4. "Kathy's Waltz" (misspelled, but named after Brubeck's daughter, Cathy) starts in 4/4, and only later switches to double-waltz time, before merging the two. "Everybody's Jumpin' " is mainly in a very flexible 6/4, while "Pick Up Sticks" firms that up into a clear and steady 6/4.
Aside from all this, Desmond has a habit of smoothing the time into something nearer 4/4 as he plays. Partly because of this, but mainly because of the skill and jazz sensibilities of the musicians, the complex and non-jazz rhythms do not stop the music from swinging.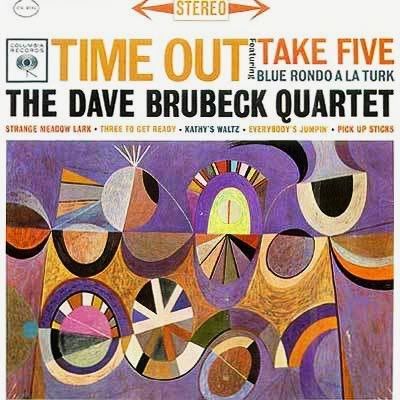 http://rapidshare.com/files/213704194/Time_Out.rar
01-
Blue Rondo a La Turk
02-
Strange Meadow Lark
03-
Take Five
04-
Three to Get Ready
05-
Kathy's Waltz
06-
Everybody's Jumpin'
07-
Pick Up Sticks