Charles Aznavour, (born Shahnour Varenagh Aznavourian, May 22, 1924,
Paris
) is an
Armenian
-
French
singer
,
songwriter
, and actor. Besides being one of France's most popular and enduring singers, he is also one of the most well-known singers in the world. He is known for his characteristic short figure and unique
tenor
voice; clear and ringing in its upper reaches, with gravely and profound low notes. He has appeared in more than 60 movies, composed and recorded about 1,000 songs (including at least 150 in English, 100 in Italian, 70 in Spanish, and 50 in German), and sold well over 10 million records.
Often described as the "
Frank Sinatra
of France", Aznavour sings mostly about love. He has performed at
Carnegie Hall
and other major venues around the world. "
Que C'est Triste Venise
",
recorded in French, Italian (Com'è Triste Venezia), Spanish (Venecia Sin Ti), English (How Sad Venice Can Be), and German (Venedig in Grau), is one of Aznavour's most famous multilingual songs. In
1974
Aznavour became a major success in the
United Kingdom
where his song "
She
" went to Number One in the charts, which 20 years later was re-recorded by Elvis Costello becoming a hit again as the main song from the movie "Notting Hill". At the start of autumn in 2006, Aznavour initiated his farewell tour, performing in the US and Canada, and earning very positive reviews. He still sings in multiple languages and without persistent use of teleprompters, but typically sticks to just two or three (French and English being the primary two, with Spanish or perhaps Italian being the third) during most concerts. Aznavour started 2007 with concerts all over Japan and Asia. The second half of 2007 saw Aznavour return to Paris for over 20 shows at the Palais des Congrès in Paris, followed by more touring in
Belgium
,
the Netherlands
, and the rest of France. Throughout the spring of 2008, Aznavour toured
South America
, holding a multitude of concerts in
Argentina
,
Brazil
,
Chile
, and
Uruguay
. Summer saw him in
Quebec
, and a return to Latin America followed in autumn. He has repeatedly stated that this farewell tour, health permitting, will likely last beyond 2010. At 84, Aznavour is in excellent health, although admittedly 60 years on stage have made him "a little hard of hearing". Aznavour's next tour, Aznavour en liberté
, will take him again across the United States and Canada. It'll start in late April 2009. He currently resides in
Geneva
,
Switzerland
.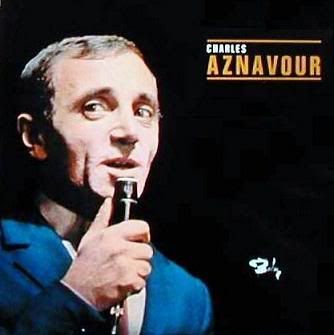 http://rapidshare.com/files/213752012/Charles_Aznavour_-_Aznavour.rar
01- La Bohème
02- Trousse Chemise
03- Avec
04- Qui?
05- Je Te Rechaufferai
06- Les Comediens
07- For Me, Formidable
08- Mourir d'Aimer
09- L'Amour C'est Comme un Jour
10- Que C'est Triste Venise
11- Il Faut Savoir
12- Et Pourtant
13- Je t'Attends
14- Bon Anniversaire
15- Aime Moi
16- Tu T'laisses Aller
17- Comme Ils Disent
18- Hier Encore
19- C'est Finí
20- She (Tous Les Visages de l'Amour)