In March 1965, four Uruguayan guys (Hugo Fattoruso -21 y.o.-, Osvaldo Fattoruso -18 y.o.-, Roberto "Pelín" Capobianco -21 y.o.- and Carlos "Caio" Vila -21 y.o.-) started to record their first album at the EMI-Odeon recording studios in Buenos Aires, Argentina.
Los Shakers were the most popular
rock
band in South America during the mid sixties and they also were part (and leaders) of the so-called "
Uruguayan Invasion
" in
Argentina
. The band was formed in mid-1964 in
Montevideo (Uruguay
)
and modeled after
The Beatles
,
since the movie "A Hard Day's Night" caused such an impact on these young guys that they immediatly adopted similar haircuts and clothing. The band sang and composed 95% of their stuff in
English
, despite their location, and gained their greatest popularity in
Argentina
, Uruguay, Brasil, Venezuela, Peru, Paraguay and Bolivia.
They issued their first single, "Keep Searchin' / Only in Your Eyes" in 1965, but it was their second single, "Break It All / More" the one which went straight to nº 1.
This LP (here with added bonus tracks and rarities), released in mid-1965, contained the A-sides of their two first singles, plus a dozen of new recordings mostly written by the Fattoruso brothers. "Los Shakers", their first LP, remains as one of the strongest albums of the beat era from anywhere in the world. As capable musics in their own right, the band was able to dissect the harmonic elements of the Beatles "A Hard Day's Night / Beatles For Sale" era writing, adding their unique jazzy-pop-latin sensibilities and a healthy shot of the infectious
joie de vivre
that made the early Beatles so appealing.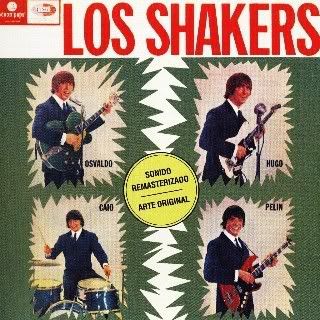 http://www.megaupload.com/?d=3WVOXQH5
01- Break It All - 12/4/65 *
02- What a Love - 23/3/65
03- Baby Yeah, Yeah - 22/6/65
04- Forgive Me - 05/5/65
05- Everybody Shake - 18/6/65
06- Thinking - 19/4/65
07- It's My Party - 21/4/65
08- Keep Searching - 12/5/65
09- For You, For Me - 08/4/65
10- Shake in the Streets - 04/5/65
11- The Longest Night - 16/6/65
12- Baby Do the Shake - 21/5/65
13- Don't Ask Me Love - 12/4/65
14- Give Me - 04/6/65
Bonus Tracks:
15- Only in Your Eyes - 25/3/65
16- More - 27/4/65
17- My Bonnie - 23/3/65
Rarities:
18- I Wanna Be Your Man - 23/3/65
19- Boleto Para Pasear (mono mix - unreleased) - 18/5/65
20- See You Later Alligator - 27/5/65
21- À Présent Tu Peux T'en Aller - 09/6/65
22- No Fuimos (stereo) - 22/7/65
23- Nena Baila Shake (stereo) - 22/7/65
24- No Fuimos (stereo + from master tape) - 22/7/65
(* Dates refer to recording dates)