After the ending of Pescado Rabioso, Luis Alberto Spinetta founded Invisible together with Héctor "Pomo" Lorenzo in drums and Carlos Alberto "Machi" Rufino in bass and vocals. The first public gig of Invisible was at the Astral Theater, in Buenos Aires, on November 23, 1973 and on the following year they edited their first single plus their first album. The group was working hard during rehearsals and only was appearing at big theaters or stadiums, but never in festivals or small places. After a long silence, they change record company (they went from Talent - Microfón to CBS), and presented
Durazno Sangrando
, their second LP released in 1975, at the Coliseo Theater on November 21 and on 22 of that same year.
El Jardín de Los Presentes
, their third and last LP, saw the light in 1976 and it was when Tomás Gubitsch joined to the band, as second guitarist. The album would become in one of the best of the Argentine Rock in his "third cycle" (1976 - 1982) and it was characterized by the merger of rhythms and genres. The album also obtained an immediate massive success and began to show of entry as a classic album, full of songs featuring an unusual beauty. If any Spinetta disc always hoards at least one beautiful song, in the case of "El Jardín..." almost all the topics approach the perfection. The album would be presented on August 6 at the Luna Park Stadium. This material has a clear influence of rock mixed with modern tango, which was in heyday in Buenos Aires during that time frame. Such it is like that, that for his live presentation (which would be the last one of the band), summoned the virtuoso bandoneonista Rodolfo Mederos. Invisible gave their last live show on December 12, 1976 at the Luna Parl. At the beginning of 1977, the group broke up.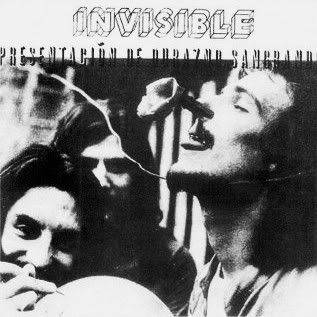 http://www.mediafire.com/file/tynmkytktuh/Invisible
- Recopilación.rar
01- El Anillo del Capitán Beto
02- Dios de la Adoescencia
03- Doscientos Años
04- Durazno Sangrando
05- Las Golondrinas de Plaza de Mayo
06- Jugo de Lúcuma
07- La Llave del Mandala
08- Los Libros de la Buena Memoria
09- Oso del Sueño
10- Lo Que Nos Ocupa es la Conciencia, Esa Abuela Que Regula el Mundo
11- Que Ves El Cielo
12- Suspensión
13- Viejos Ratones del Tiempo
14- Niño Condenado
15- La Azafata del Tren Fantasma