Carl Lee Perkins (April 9, 1932 – January 19, 1998) was an American pioneer of rockabilly music who recorded most notably at Sun Records Studio in Memphis, Tennessee beginning in 1954. An outstanding performer, his contribution to rock and roll music is still heard to this day, especially through his fine compositions and guitar playing. His best known song is "Blue Suede Shoes." According to Charlie Daniels,
"Carl Perkins' songs personified the rockabilly era, and Carl Perkins' sound personifies the rockabilly sound more so than anybody involved in it, because he never changed."
Perkins' songs were recorded by artists (and friends) as influential as Elvis Presley, The Beatles, and Johnny Cash, which further cemented his place in the history of popular music. Called the King of Rockabilly, he was inducted into the Rock and Roll, the Rockabilly, and the Nashville Songwriters Halls of Fame; and was a Grammy Hall of Fame Award recipient.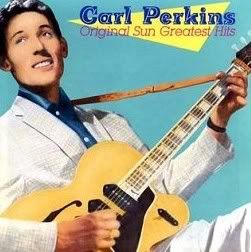 http://www.mediafire.com/file/dtjng1kynzy/Carl
Perkins - Original Sun Greatest Hits.rar
01- Blue Suede Shoes
02- Honey Don't
03- Boppin' the Blues
04- Everybody's Trying to Be My Baby
05- Movie Magg
06- Sure to Fall
07- All Mama's Children
08- Perkin's Wiggle
09- Put Your Cat Clothes On
10- Matchbox
11- Your True Love
12- Lend Me Your Comb
13- Dixie Fried
14- You Can Do No Wrong
15- Glad All Over
16- Gone, Gone, Gone