Carlos Gardel (Charles Romuald Gardes, 11 December 1890 Toulouse, France - 24 June 1935 Medellín, Colombia) is perhaps the most prominent figure in the history of tango. Although his birthplace is disputed between Uruguay and France, he lived and grown up in Argentina since the age of two and acquired Argentine citizenship in 1923. When asked about his nationality, Gardel would answer,
"I was born in Buenos Aires, Argentina, at the age of two years and a half..."
It is thought that Gardel used to give evasive answers in order to hide the circumstances of his birth to a single mother, Berthe Gardes, since apparently he was son of an illegitimate father who belonged to a healthy French family from Toulouse. Gardel grew up in the Abasto neighbourhood of Buenos Aires, located near the Central Market of Fruit and Vegetables, an enormous art-deco styled building which today is a shopping mall. Gardel created the tango-canción in 1917 with his rendition of Pascual Contursi and Samuel Castriotta's "Mi Noche Triste". The recording sold 10,000 copies (In 1917!!!)and was a hit all throughout Latin America. Gardel went on tour through Argentina, Uruguay, Chile, Brazil, Puerto Rico, Venezuela, Colombia, and also made several appearances in Paris, Nice, Barcelona, Madrid and New York. He sold 70,000 records in the first three months of his 1928 visit to Paris. As his popularity grew, he made a number of films for Paramount, first in France and then in the U.S. While sentimental films such as
El día que me quieras
or
Cuesta abajo
lack lasting dramatic value, they were outstanding showcases of his tremendous singing talents and moviestar looks. He died in an airplane crash at the height of his career, becoming an archetypal tragic hero mourned throughout Latin America. The unerring musicality of Gardel's baritone voice and the dramatic phrasing of his lyrics made miniature masterpieces of his hundreds of three-minute tango recordings. For many, Gardel embodies the soul of the tango style that originated in the barrios of Buenos Aires at the end of the 19th century. He is commonly referred to as "Carlitos" (Charly), "The King of Tango", "El Mago" (The Magician) and, ironically "El Mudo" (The Mute).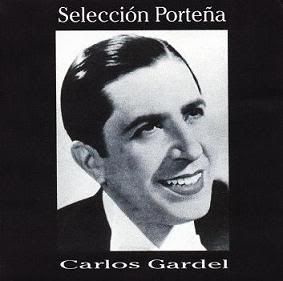 http://www.mediafire.com/file/mcmnm2muotz/Selección
Porteña Vol. 1.rar
01- La Canción de Buenos Aires
02- Chorra
03- Compadrón
04- Che Papusa, oí
05- Tarde Gris
06- Che Bartolo
07- Callejera
08- Muñeca Brava
09- Leguisamo Solo
10- Almagro
11- Cruz de Palo
12- Dos en Uno
13- Mala Entraña
14- Farabute
15- Fondín de Pedro Mendoza
16- Ausencia
17- Victoria
18- Barrio Viejo
19- Amurado
20- Al Mundo le Falta un Tornillo
21- La Novia Ausente
22- El que Atrasó el Reloj
23- Madame Ivonne
24- Anclao en París
25- Lloró como una Mujer
26- Alma en Pena
27- Tengo Miedo
28- Desdén
29- Milonga Sentimental
30- Colorao, Colorao
31- Por Qué Me Das Dique
32- Enfundá la Mandolina