Charles Edward "Chuck" Berry
(born October 18, 1926 in St. Louis, Missouri) is an American guitarist, singer and songwriter. Chuck Berry is an influential figure and one of the pioneers of rock and roll music. According to the Rock and Roll Hall of Fame's website,
"While no individual can be said to have invented rock and roll, Chuck Berry comes the closest of any single figure to being the one who put all the essential pieces together."
Cub Koda wrote,
"Of all the early breakthrough rock & roll artists, none is more important to the development of the music than Chuck Berry. He is its greatest songwriter, the main shaper of its instrumental voice, one of its greatest guitarists, and one of its greatest performers."
John Lennon was more succinct:
"If you tried to give rock and roll another name, you might call it 'Chuck Berry'."
Berry was among the first musicians to be inducted into the Rock and Roll Hall of Fame on its opening in 1986. He received Kennedy Center Honors in 2000 in a "class" with Mikhail Baryshnikov, Plácido Domingo, Angela Lansbury, and Clint Eastwood. In 2004, Rolling Stone ranked Chuck Berry #5 on their list of the 100 Greatest Artists of All Time. He was also ranked 6th on Rolling Stone's Rolling Stone's 100 greatest guitarists of All Time. The Rock and Roll Hall of Fame included three of Chuck Berry's songs ("Johnny B. Goode", "Maybellene", "Rock and Roll Music"), of the 500 songs that shaped Rock and Roll.
The Great Twenty-Eight
is a greatest hits album by classic rock and roller Chuck Berry, released in 1982. In 2003, the album was ranked number 21 on Rolling Stone magazine's list of the 500 greatest albums of all time.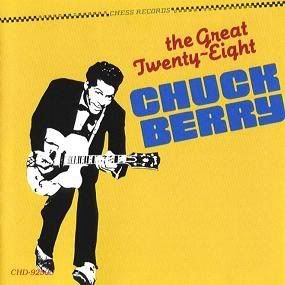 http://www.mediafire.com/file/gwznd5unmnd/Chuck
Berry The Great Twenty Eight.rar
01- Maybellene
02 Thirty Days
03- You Can't Catch Me
04- Too Much Monkey Business
05- Brown Eyed Handsome Man
06- Roll over Beethoven
07- Havana Moon
08- School Days
09- Rock & Roll Music
10- Oh Baby Doll
11- Reelin' and Rockin'
12- Sweet Little Sixteen
13- Johnny B. Goode
14- Around and Around
15- Carol
16- Beautiful Delilah
17- Memphis
18- Sweet Little Rock & Roller
19- Little Queenie
20- Almost Grown
21- Back in the U.S.A.
22- Let It Rock
23- Bye Bye Johnny
24- I'm Talking About You
25- Come On
26- Nadine
27- No Particular Place to Go
28- I Want to Be Your Driver